The participants of MEC SHOW – Metalmechanics and Industrial Innovation Fair can also enjoy the beauties of Vitória (ES). The city is one of three Brazilian capitals located on islands and boasts stunning landscapes of beaches and canals.
With 104.3 km² in area, Vitória is an archipelago formed by 34 islands and a continental region, with one of the most beautiful coastal scenery in the country. With a predominantly humid tropical climate, it has average maximum temperatures of 30.4 °C and minimum temperatures of 24 °C.
In addition to its natural attributes, the location of Vitória is a strategic factor for local tourism development. The capital is close to the main tourist centers in Brazil and has a strong hotel chain, among the main ones operating in Brazil.
The city offers visitors all the necessary infrastructure for an unforgettable stay. With restaurants for all tastes, it is possible to taste from the traditional Moqueca and the Capixaba pie, through the delicacies of regional cuisine that delight the tourists, to the most sophisticated dishes of international cuisine.
The capital also has several parks and natural areas in which visitors can contemplate nature, have fun with their family, exercise or relax. In addition, it is prepared to offer the best of entertainment, with upscale restaurants, live music bars and nightclubs.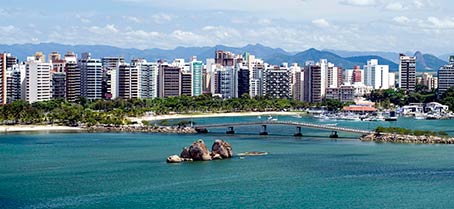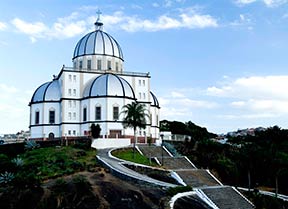 Vitória is the second oldest capital of Brazil, allowing visitors to observe and appreciate the city's rich historical, architectural and cultural aspects as they stroll through the historic center.
This economic dynamism of the capital results mainly from foreign trade services, support for the industrial urban economy of Grande Vitoria and the growth of the tourism sector.
In addition, in recent years, activities related to oil and natural gas exploration have gained momentum and already reflect direct and indirect positive impacts throughout the Metropolitan Region, such as increased investment and job creation, expansion of port activities, promotion of business tourism, among others.
As one of the most developed cities in the country, Vitória has been highlighted by the excellent quality of life indices that make it one of the best Brazilian capitals to live.
The city is ready to delight the visitors of the MEC SHOW Fair, offering quality hotel and leisure services, mobility facilities, as well as eye-catching beauties and hospitality of the people of Espírito Santo.
To take advantage of the numerous tourism options the island offers, contact Fomatur Receptive Tourism at 27 3029.0233 / 3029.0237 / 99935.3155 and purchase your package.
More information about the city of Vitória, visit the official website: vitoria.es.gov.br